Guest blog – cork and laser machines
Today we have another guest blog from Canadian business CNCRoi.com! CNCRoi.com are great supporters of the Engravers Register and can also boast having the first Trotec Laser Speedy 400 Flexx in Canada (Trotec Laser are our global premium partner).
Lasers are the best machines to engrave (and cut) Cork, the best company in Canada to choose to do this for you is CNCROi.com! What's especially nice about a laser machine is the precision and sharpness you don't get using any other branding method onto cork, including from hot stamping (yes, we have that but still prefer the laser for engraving).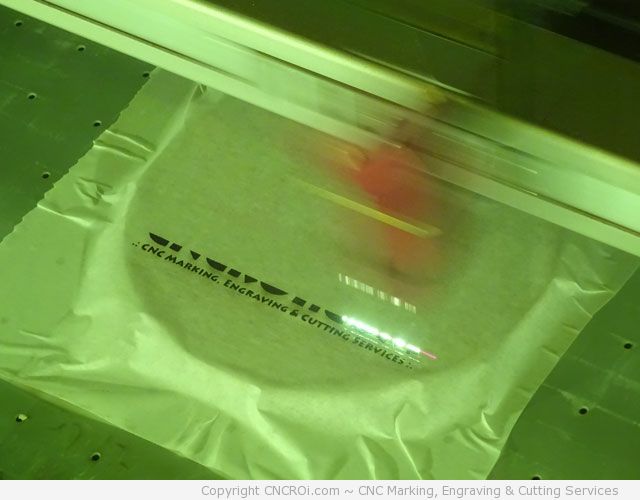 We could have done this cork disk without a mask but the results are just so much nicer with it on. All that soot builds-up on the surface which, although easily removed, does deposit itself into cracks that makes removing it challenging without damaging the engraved surface. Cork may seem solid but it's surprisingly fragile when not flat under a cold beer!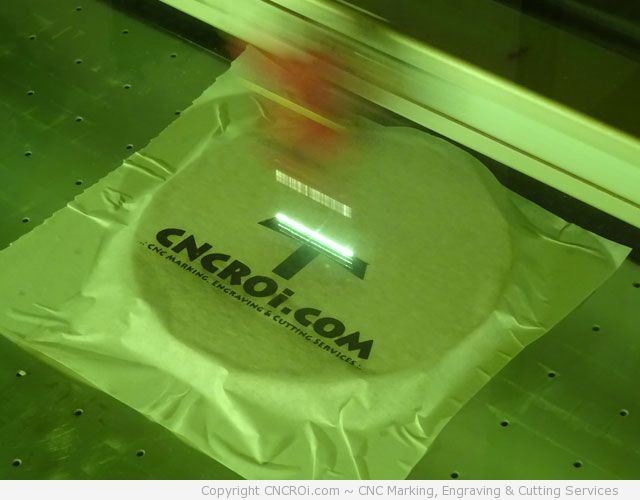 Cork is also a very lightweight material and with our exhaust and compressed air going onto the disk, it tends to levitate and look for the quickest route to Mars. The easiest solution is to put "too much" masking and use that hold the cork UFO down. You'd think a vacuum table would hold this down, technically, it could if we covered all the holes that the cork was not on but it's more efficient to just stick it on locally. We could have used double-sided tape and a host of other contraptions but the masking is already there so might as well use it! It does a fine job!
The density of cork isn't consistent, sometimes you hit hard patches and other times, a void, so getting things right the first time takes a bit of practice but generally, I prefer to go for more power rather than not enough for the extra deep color we can achieve with our laser machine.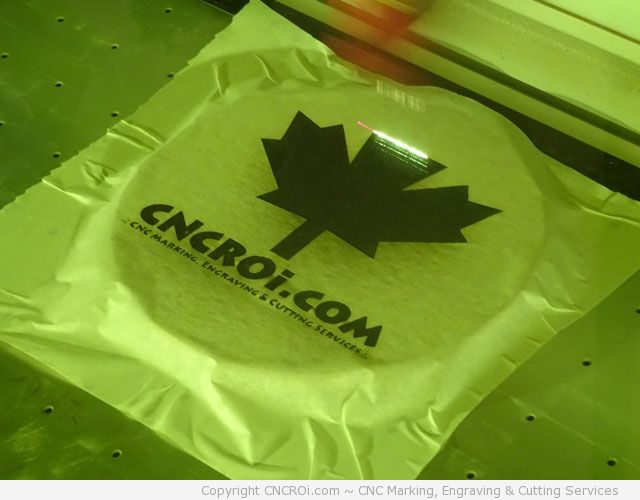 The process of laser engraving is relatively quick, comparing the top soot filled cork coaster above with the clean one below, you can see how well the masking protects the surface.
You'll notice a bit of "discoloration" in the middle of the leaf, this comes from removing some of the soot using the air compressor, the same one pushing PSIs onto the model while it was being engraved. This is fine and normal… just had too much building in that area.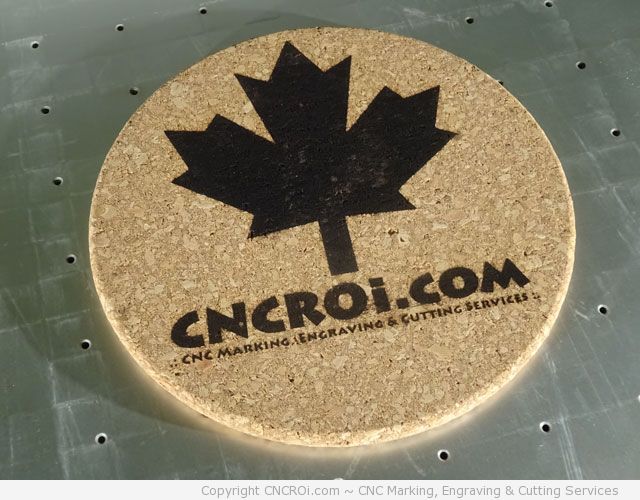 What will this newly engraved cork coaster be used for? It's going to be part of our sample case… soon to be plural as CNCROi.com just has so much stuff! As for applications, this cork can be had in endless sizes, shapes and thicknesses, we can even cut it to your spec using our Trotec Speedy 400 flexx Austrian laser!
Want these small enough to hold a bottle of beer on your deck overlooking the lake or as big as a wall to pin things to, we can do that quickly, efficiently and inhouse! These can be made stand-alone, engraved or even held within any kind of funky idea you have in mind, we've done some awesome cork stuff and regardless of what you may think is crazy, we've probably done it already.
You can watch the awesome video of this cork being engraved below, enjoy!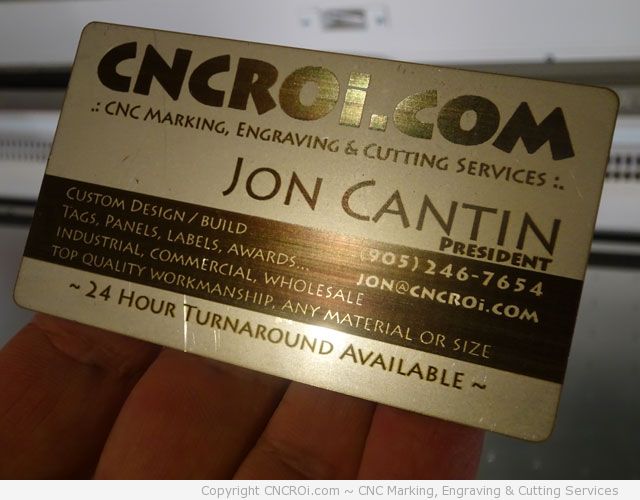 https://engraversregister.com/wp-content/uploads/2013/05/logo2.png
0
0
Natalie
https://engraversregister.com/wp-content/uploads/2013/05/logo2.png
Natalie
2015-03-08 03:27:49
2015-03-08 03:27:49
Guest blog – cork and laser machines