CNC Laser Engraving & Cutting Custom Wedding Cake Toppers
Another great "how to" by our supporter CNCRoi.com.
For the past year, CNCROi.com has been solely focused on manufacturing, mill work and aerospace industries, the reason is simple, they have the volume and expertise that utilizes our capabilities to the fullest. Now that we are in our second year of operation, we are expanding into new markets that can benefit from our industrial expertise in areas that aren't being well served.
Our first stop on the diversification train is custom cake event toppers, specifically, wedding and birthday. We are, of course, still going full throttle with our "traditional" markets and expanding them further thanks to our unique dual-sourced Austrian wide format CNC laser, we are just opening our doors wider now into new areas. The more volume we can get into the shop, regardless of source, the faster we can acquire the equipment we are saving-up for to maintain and expand our lead in the custom CNC marketplace.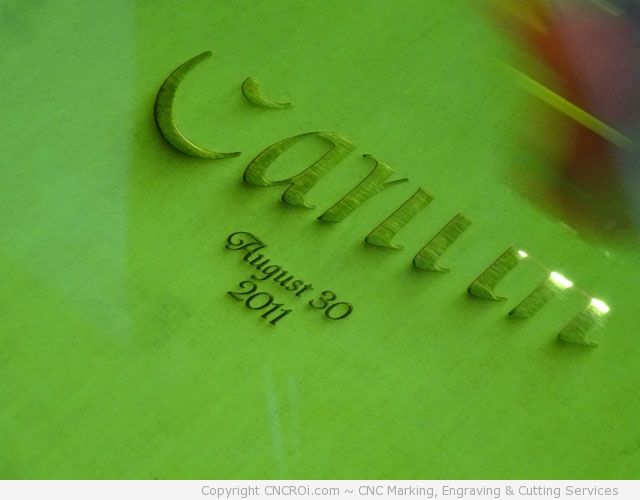 These custom wedding cake toppers were custom designed by CNCROi.com in-house. This makes us a very unique entrance into the wedding cake topper market as our stuff isn't imported. It's CUSTOM DESIGNED, CUSTOM ENGRAVED AND CUSTOM CUT on any material you wish FOR YOU.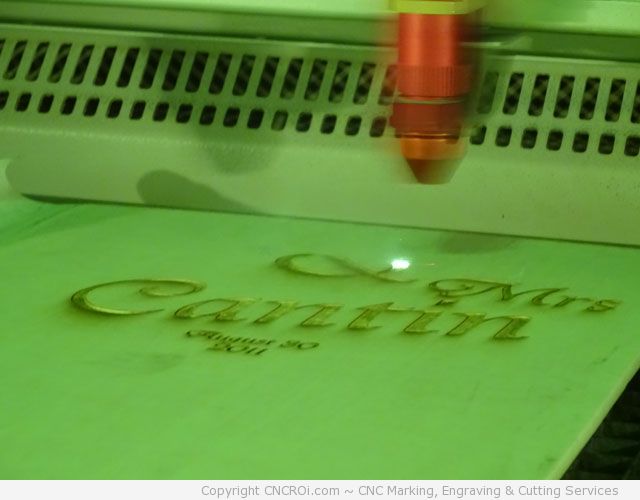 The entire process can be as fast or slow as you wish, generally, give us a day to design and cut though this can vary to 2-3 days depending on the number of revisions, material selection and other stuff we have going on in the shop.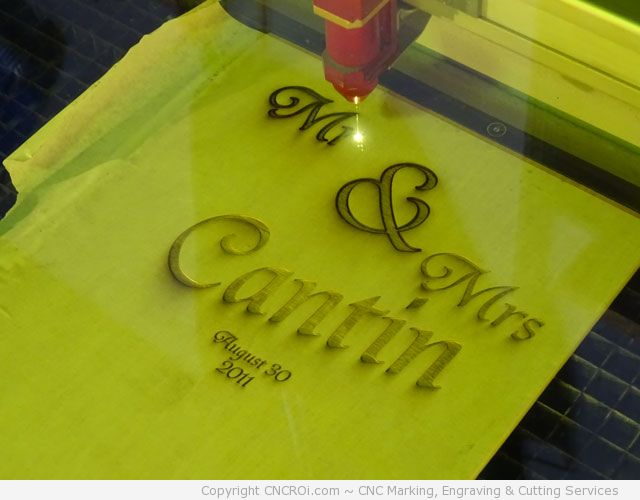 The advantage though with CNCROi.com is that, like our industrial clients, we can easily ramp up production and make hundreds if not thousands of these in very short order. Not only that, but we can customize each wedding topper with the name of the person attending your wedding… as a keepsake.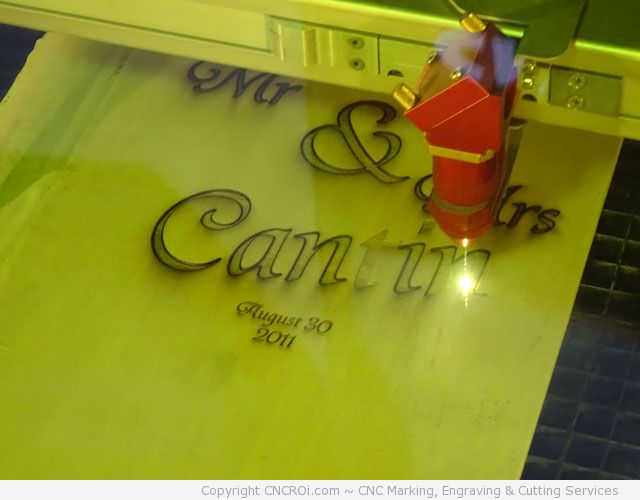 This is entirely impossible and impractible any other way. Why? Because we are a custom mass production business, meaning that in-house, if you need a thousand unique items or a thousand same items, our CNC laser (and operator) don't care. It's no problem as we cut, engrave, etch ON DEMAND.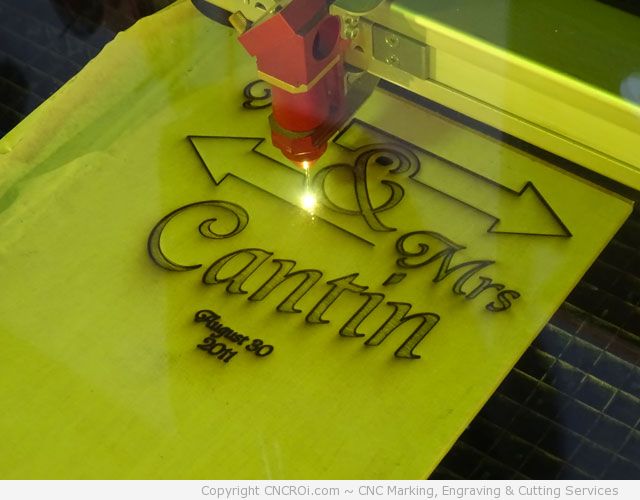 This incredible power is now available to you, for your special event… for the FIRST TIME EVER! Having industrial scale expertise and customers has many advantages, that you can now benefit directly from.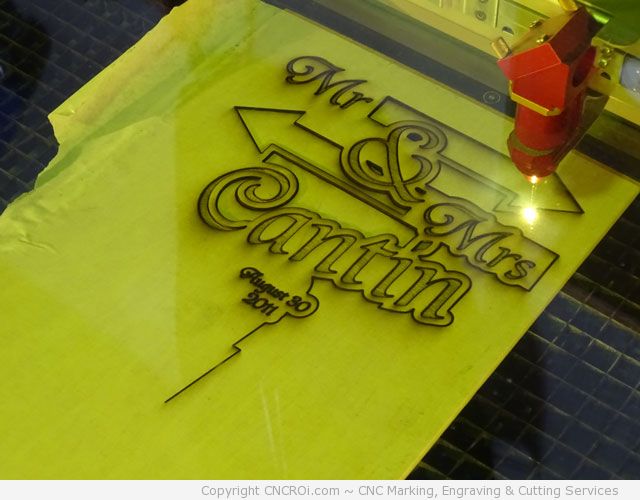 The nice things about weddings and birthdays is that, generally, you know what the date of the event will be. That gives everybody tons of lead time, and again, you benefit as do we as between production runs at our custom CNC shop, we can fit in custom laser engraved and cut cake toppers.
Another advantage that CNCROi.com offers, in addition to custom design and engraving/cutting capabilities and database driven customization of wedding cake toppers is that we are able to make these cake toppers out of any material you wish.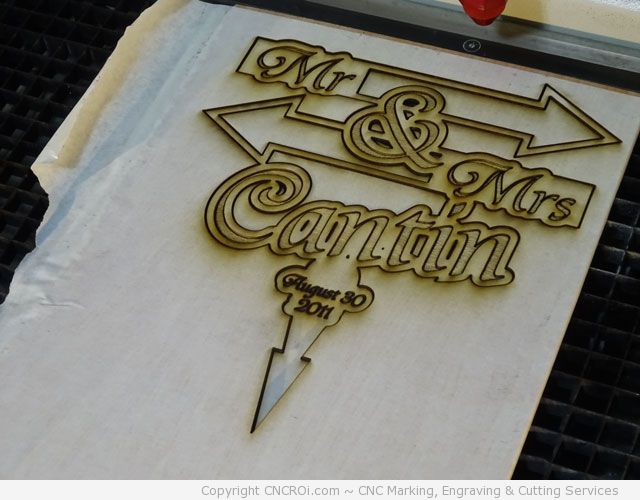 In these examples, we make the wedding cake topper out of 6 mm (1/4 inch) birch plywood but that can just as easily have been solid wood, acrylic, plastic, polycarbonate… even stainless steel! What will dictate material options is the design and budget.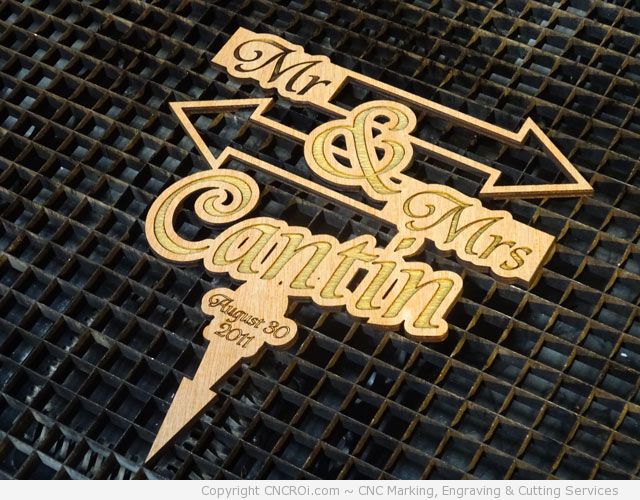 Taking things one step even further, you can now have a mix and match, which means we can make a custom wedding cake topper for you out of one colored (or multi-colored) acrylic for the cake and make all the others out of plywood or anything else.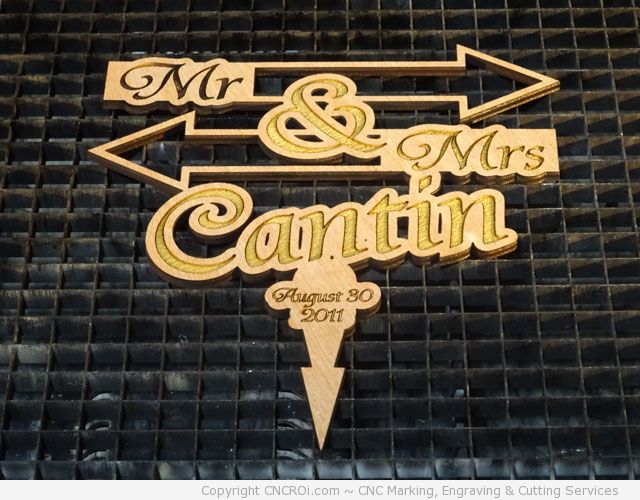 These options, and a bunch more are all up to you. You want your cake topper to double as a knife to cut your cake? Yep, get one made out of stainless steel. Never seen that before… this is the power that CNCROi.com brings to your event.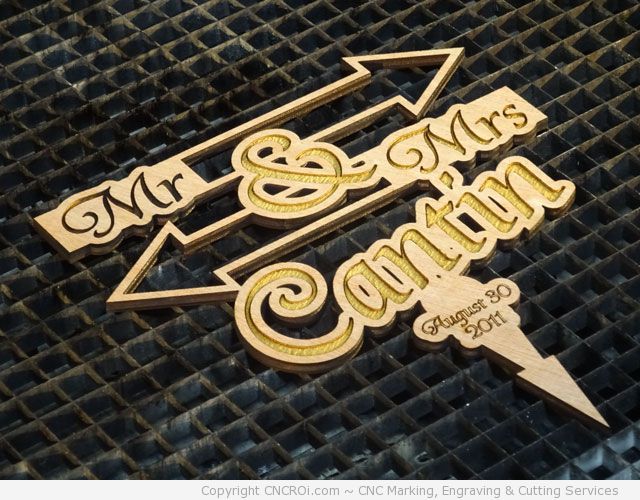 Not only that… I know, we can expand this infinitely, but we can just as easily make these wedding cake toppers for corporate use, so making them out of your logo as keepsakes or handouts to celebrate a big event. Got your first million dollar contract? Get a custom cake made (we can't do that) and then get us to make a custom cake topper for it!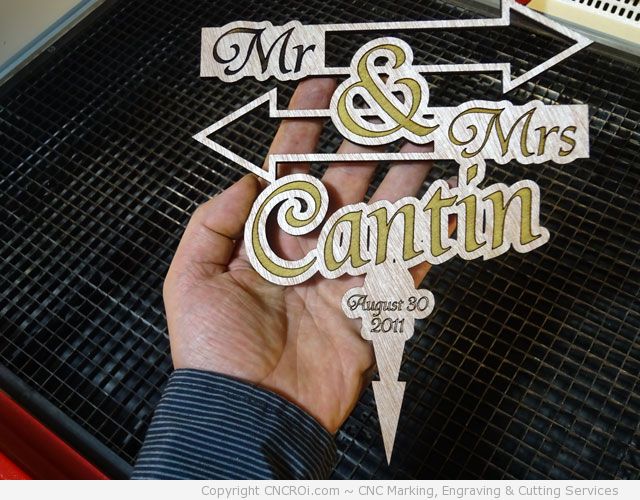 The quality of our work is evident from both the front and the back. We are truly passionate about what we do here at CNCROi.com and make sure what ever we do for you, you not only are aware of how it's being made but also get action shots during production.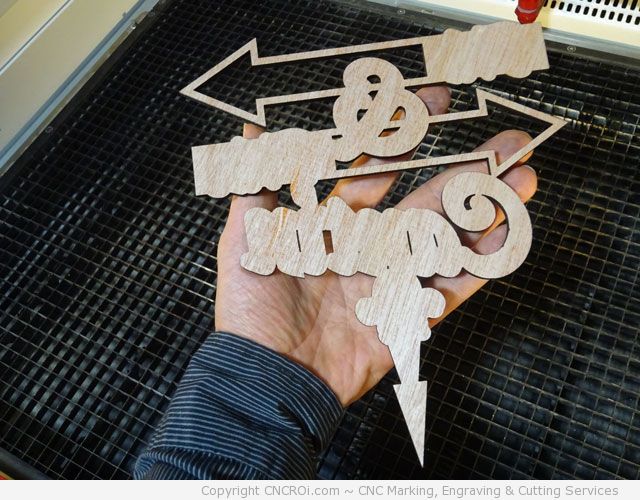 So, if you want to create extra buzz about your upcoming event, we can make videos, photography etc. that you can share on social media so that your awesome cake toppers becomes a conversation piece in addition to a keepsake.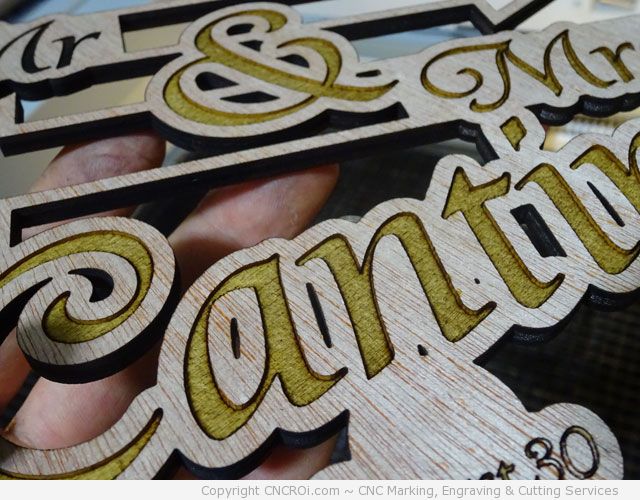 Alright, I can write about how awesome this stuff is all day, let's go back to looking at how these two wedding cake toppers were made, production wise. Keep in mind that the steps change depending on the production quantity, materials and timelines involved.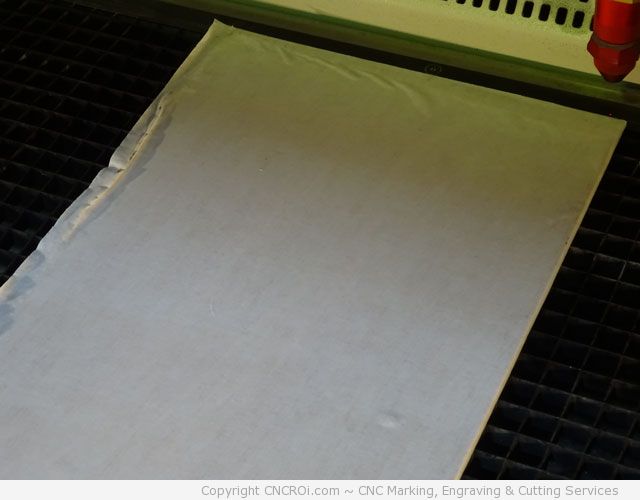 The first step involved with making these custom wedding cake toppers, after the design is signed-off upon, is to mask the plywood (acrylic etc. don't need this step). The reason why we do this, ON BOTH SIDES, is due to the resins and glues in the wood, we have to do this whether it's hardwood, softwood or engineered by the way. Once it's vaporized, the residue which is very sticky, tries to find a place to latch onto, which is generally the surface of the material.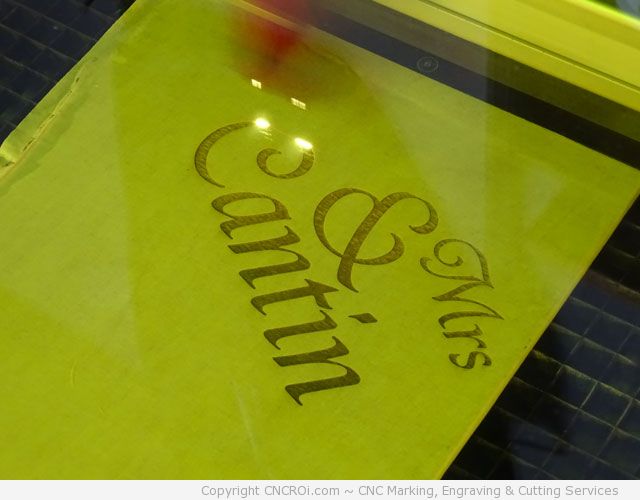 The easiest place to latch onto is the front and back of the wood, for engraving, it's just the front. Once this sticky residue latches on though, it's very difficult to remove as it gunks up sand paper and most other materials. This is why we mask both the front and back, so that after production, we remove the masking paper which, removes the gunk as the same time.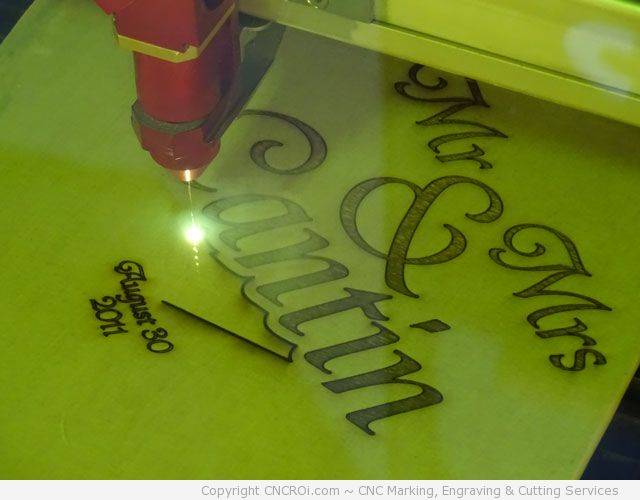 This is why the birch plywood you see in these photos looks "white" (or green actually through our industrial laser window). That's paper covering things up.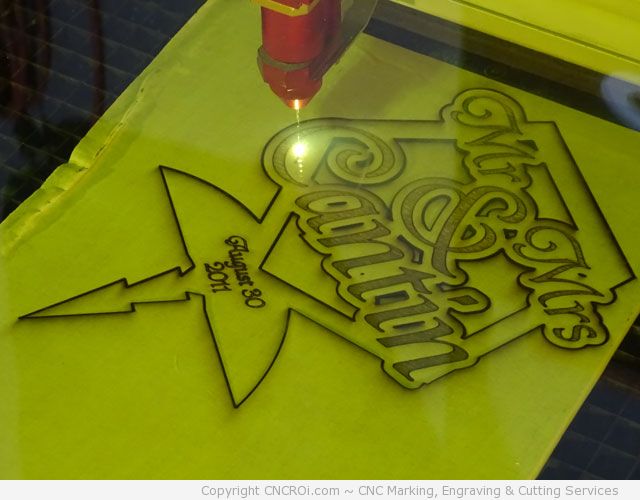 After the engraving is complete, we then cut the inside parts and outline. Why? Well, if we cut out the outline first, it will "shift" slightly and so, cutting out the inside parts and the engraving will no longer be the same. We imported an industrial CNC laser from Austria… the precision is insane… and that's why our customers love us. Just because we are now offering "simple things" like this wedding cake toppers, doesn't mean we cut corners to speed production up.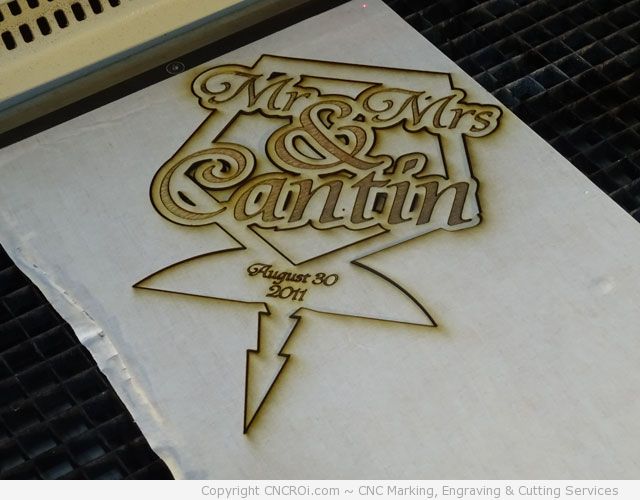 This is what makes CNCROi.com different. If something takes a bit longer to do RIGHT, so be it, at least you get what you paid for!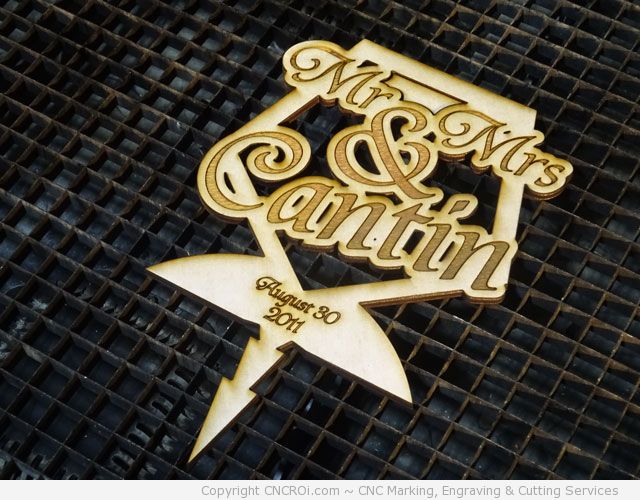 As you can see from these photos, the masking has burned edges (resin) residue. This is why most laser cut cake toppers look HORRIBLE, because the company can't be bothered to do things RIGHT. They have a junky machine that's anything but precise that is simply set-up on the wrong foundation to run a proper custom CNC shop upon.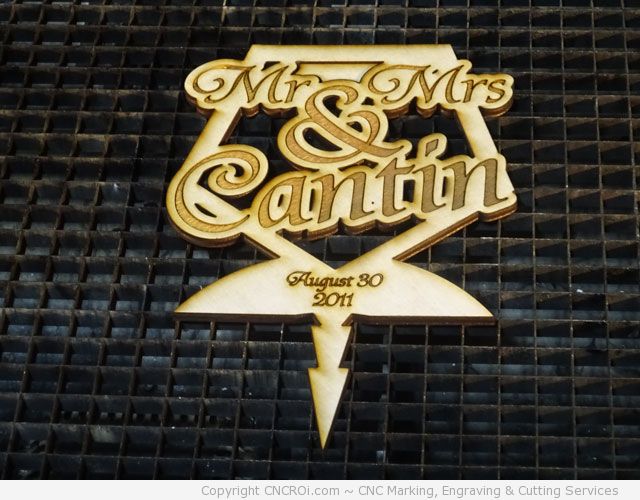 Taking the masking off, you can clearly see the quality of our output. Yes, we masked this (we didn't have to), yes, we made extra cut lines around the letters (we didn't have to) and absolutely yes, we custom designed this to spec. We do this because we care about what leaves the shop, we are in business for the long term and CNCROi.com will not last as a business if we only do awesome industrial work but awful cake toppers. Either you do things right and perfect or go out of business.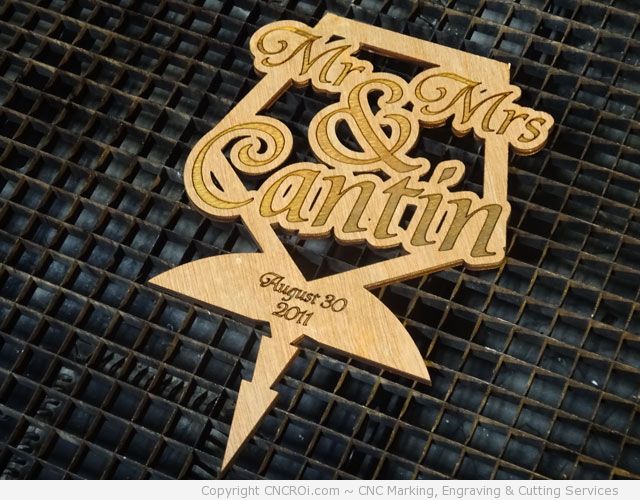 This is plywood, so the results from the laser have a bit of variance. You can see the "white blotch" inside the "Mr.", upon closer inspection, the wood itself is a different color – in this case, we'd send a photo to the customer for approval before shipping. If you didn't want that white blotch, no problem we cut another one until you get what you paid for. Easy as that!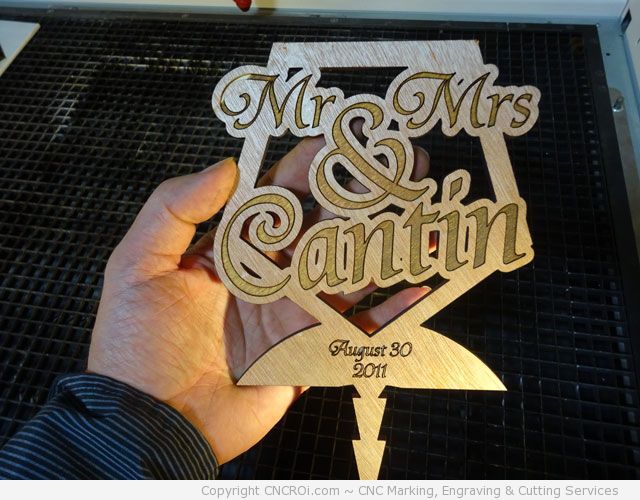 Here you can more clearly see the quality of the output, our letters are perfectly centered with their related contours, the lines are smooth, not jagged. The engraving is the same depth all over and considering this is wood, a pretty darn good sample of what we are capable of doing!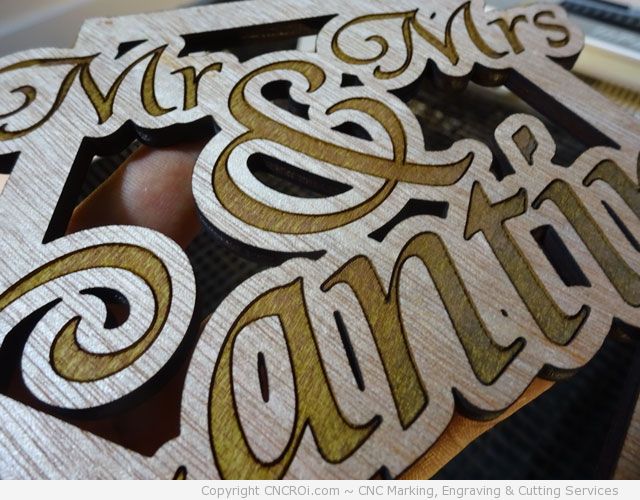 https://engraversregister.com/wp-content/uploads/2015/10/custom-weddingcaketopperxx1.jpg
400
512
Vicki
https://engraversregister.com/wp-content/uploads/2013/05/logo2.png
Vicki
2015-11-02 07:19:44
2015-11-01 07:20:46
CNC Laser Engraving & Cutting Custom Wedding Cake Toppers